Kodak Unique Progressive Lenses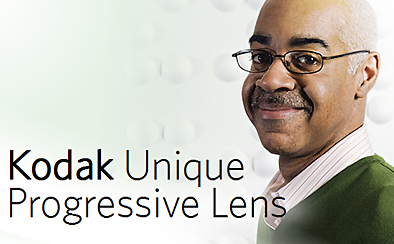 If you're over 40, you'll appreciate this latest advancement.
If you need glasses for reading, this is welcome news. KODAK Unique Lenses are the latest development for smooth, comfortable vision correction.
Sharp, clear vision wherever you look, from inches to miles away.
This remarkable new design in "progressive" lenses enables you to see everything clear and sharp, for objects up-close, in the distance, and in between.
Why Prescribe KODAK Unique Lenses?
KODAK Unique Progressive Lenses are designed with Vision First Design Technology to provide:
- A broad field of view in a clear distance area
- Smooth gradation of power across the surface of the lens to ease patient adaptation
- Gentle binocular balance for quick, clear object recognition
- Visual quality often compared to a single vision lens
The Most Convenient Lens to Use
- No extra dispensing measurements or equipment are required.
The technology used to create KODAK Unique Progressive Lenses selects the corridor length for each patient's Rx based on the frame size, monocular PD and fitting heights. This ensures the best overall visual performance for nearly any B measurement, large or very small.
- Over 50 Lens Material Options
Nearly all major lens materials are available – Multiple indices in clear, photochromic and polarized.
Back Surface Lens Design
State-of-the-art technology uses diamond-tip, high-speed cutting and integrated digital surfacing to transfer the Vision First Design to the backside of the lens.
Extra-Durable, Two-Side Hard Coat Protection
A durable hard coat is applied using a dip-coat method for optimal results, and a choice of KODAK Anti-Reflectives are available.
Patient Experience
Advanced computer technology ensures optical quality.
Digitally-created to provide sharp, clear viewing near, far and in-between. Whether choosing a small or large frame, a computer program will select from six KODAK Unique Lens designs to properly locate the viewing areas
.
Unique eyewear to suit unique lifestyles.
KODAK Unique Progressive Lenses are offered with UV and glare protection, thinness and lightweight comfort, and convenient darkness adaptation to light changes. Choose anti-reflection coverage so lenses are easy to clean.