Product Information
Progressive Lenses Suitable for all Frames

Provide bearer to choose his mounts without bothering about its correction, the goal has been creating Essilor Varilux ® Ellipse : a progressive lens specially designed for small frames.

Nothing other than aesthetics now dictates the choice of presbyopia glasses!

With Varilux ® Ellipse, distance vision is extra wide, with an angle of 140 °, for a truly panoramic view. Near vision requires only a small reduction in the eye and therefore allows a very natural behavior.on lens (PAL) of all time, Varilux Comfort® lenses are the gold standard by which all progressive lenses are judged. More than 100 million pairs have been dispensed!

The Most Natural Vision in a Small Frame

Choosing an attractive frame is probably one of the most important factor when purchasing spectacles. Until recently, progressive wearers are often limited to eyeglass frames that had to be a rather large size in order to accommodate all of the areas of focus in the lens. Essilor with our intensive research based on a study of small Frame wearers have overcome that difficulty by offering progressives that are more compact to fit into the small frames that are so fashionable.

Varilux Ellipse offers a small frame progressive solution for the stylish presbyopes. It is the first progressive lens which takes into account the natural visual behaviour of small frame wearers without compromising on comfort.
Technology
Design for Small Frames
Varilux® Ellipse® has been specially designed for fashionable, small frames and was developed following a study of small frame wearers. It is the first progressive lens which takes into account the natural vision behaviour of small frame wearers.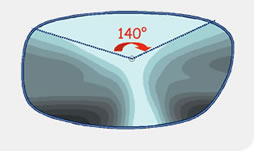 Enables Natural Vision
It enables a natural downward eye movement for reading and offers a full-scale near vision even in small frames. A definite choice for a performance lens which does not compromise on fashion needs.