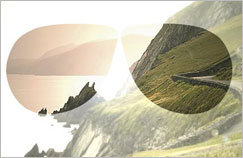 Prescription sunglasses with polarized lenses are very popular with outdoor enthusiasts who need to protect their eyes from harmful rays and reduce reflected glare surrounding them. Sunglasses and prescription sunglasses with polarized lenses are also recommended for light sensitive people to wear indoors or after any kind of eye surgery because of the superior light filtering found in polarized technology.
Polarized lenses have UVA and UVB protection and usually come with about a standard 80% grey tint (visual appearance is light black). They are highly recommended versus simple tint for people planning on being outdoors for the better part of a sunny day. Polarized prescription sunglasses are also sometimes referred to as High Definition sunglasses because of the way they filter light and give off a clearer and more crisp image.
For a prescription sunglasses buyer who wants to protect their eyes in the sun, our opticians almost always recommend the polarized option to be added to your prescription sunglasses purchase, available in the EXTRAS section when you customize your lenses in the checkout.
Start shopping here:
Men's Sunglasses
Women's Sunglasses
Original Transitions lenses are designed to meet the needs of the majority of those who appreciate the value of eyewear offering adaptive lens technology. With the widest variety of lens designs and materials to choose from, original Transitions lenses quickly adapt between indoor and outdoor conditions, offering a distinct advantage over ordinary clear lenses.
Change from clear indoors to dark outdoors
Clear as an ordinary clear lens indoors and at night
Block 100% of the sun's harmful UVA & UVB rays
Available in Gray or Brown
Widest variety of lens designs and materials to choose from

Just like ordinary clear lenses, original Transitions lenses are clear when indoors and at night. Once outdoors, and depending on the amount of UV light present, these lenses change automatically to become darker in either gray or brown activated color options.

These everyday lenses provide continuous comfort and peace of mind by decreasing glare, reducing eye fatigue and eye strain.
Start shopping here:
Men's Sunglasses
Women's Sunglasses
The latest and hottest craze has been different color tinted prescription sunglasses. They have become so wildly popular that the cost for creating them has been driven down to laughable prices. For less than $10 you can add any color tint to any lens even non-prescription to create your own style sunglasses or custom prescription sunglasses. For more instructions a tint option will be provided to you when you checkout in the EXTRAS section.

WARNING: Tinting reading glasses is not advisable. Tinting high prescriptions are also not advisable. Normally you can ask for a 20% tint for a cosmetic feel, but please understand the 80% gray tint is very dark and can hurt your prescription strength quality. Polarized lenses are not suggested for viewing LCD displays (computers, gps, etc).
View tint example (Due to different monitor brightness levels real results may differ)
No Tint
20% Gray
40% Gray
60% Gray
80% Gray